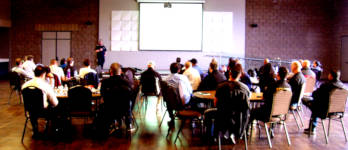 Please note change of venue. Our meetings are now taking place at the Garden Grove Community Meeting Center, 11300 Stanford Ave., Garden Grove, CA 92840. Please park on the west side of the building between the Meeting Center and the Library. Do not park on the east side of the buidling as that is Senior Center parking only. For a map to this location, please click here, http://mapq.st/2GAYnHo
The Orange County Auto Theft Investigators (OCATI) Association meets on the first Thursday of each month at 10:00 a.m., unless it is a holiday or some special circumstance.
The meetings are for auto theft detectives, insurance company special investigators, vehicle leasing loss prevention agents, and other people involved in the investigation, recovery, and prevention of vehicle thefts. Investigators from inside and outside Orange County attend the meetings to share information about current cases, suspects, and auto theft trends.
The April 4, 2019 OCATI meeting will have the usual round table discussion, including training. The Guest Speakers will be a NICB / FEAR Special Agent Lou Koven and CHP / FEAR Investigator Terry Bealey. They will be speaking about U.S. Customs and Border Protection Outbound Enforcement Team Assistance.
Topics:
• Stolen Vehicle Exports from LA / Long Beach Seaport
• Fraudulent Vehicle Documents
• Case studies and Interesting Finds
• Odometer Fraud

For a downloadable flyer, please click here

There is a $5.00 fee per meeting. ($10.00 for December)
If you wish to be placed on an email mailing list for notifications/reminders regarding the OCATI meetings, please Click Here.
The OCATI Roster is available to OCATI members as an Adobe .pdf download from the website to assist with your networking needs. The roster consists of OCATI meeting attendees. The roster is a password protected .pdf file, about 157 kb in size (last updated 03/07/19). The password was last given to the attendees at the 03/07/19 meeting. If you do not know the password or wish to have your information updated on the roster, please contact the Webmaster with your name, agency, telephone number, and email address. Click here to go to the roster.
---
MONTHLY MEETING LOCATION:
Garden Grove Community Meeting Center
11300 Stanford Avenue
Garden Grove, CA 92840
(714) 741-5262
(Click Here for Mapquest Map)
---
CURRENT OCATI OFFICERS (2019)
| | | | |
| --- | --- | --- | --- |
| Position | Name / click for email | Agency | Telephone |
| President | Melissa Somers | Crime Prevention Program of SoCal | (562) 860-9006 |
| Vice President | Alex Natividad | California Highway Patrol / SVIP | (714) 488-5868 |
| Secretary | Betty Ashley | Wells Fargo Dealer Services (Retired) | (949) 923-1332 |